Event:
Tangos, Times & Travels: From Quebec to Paris, from Provence to Buenos Aires
Date:
Sun, Jul 8th, 2018
Time:
2:00 pm
Description: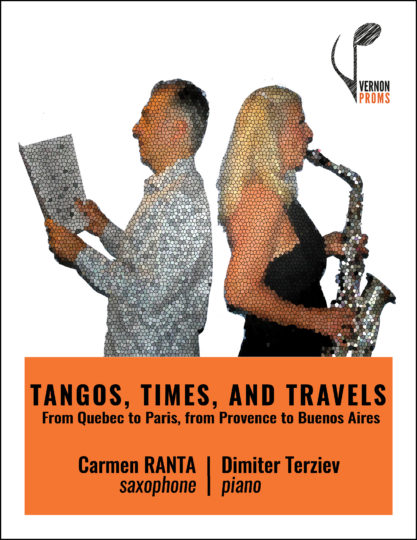 Experience the colours and moods of times and places through the glistening tone of the soprano and alto saxophones.
PART ONE: THE SOPRANO SAXOPHONE
Astor Piazzolla (1921-1992)
Histoire du Tango (The History of Tango)
Bordel 1900 (Brothel 1900)
Café 1930
Night Club 1960
Concert d'aujourd'hui (Concert of Today)

Pancho Vladigerov (1899-1974)
Prelude
Quasi Rhapsodico
Arabesque

Denis Bédard (b. 1950)
Fantasie

PART TWO: THE ALTO SAXOPHONE
Fernande Decruck (1896-1954)
Sonata in C# Minor
Très modere, expressif
Noël
Fileuse (The Spinner)
Nocturne et Rondel

Paule Maurice (1910-1967)
Tableaux de Provence (Pictures from Provence)
Farandoulo di chatouno (Farandole for Young Women)
Cansoun per ma mio (Song for my Love)
La boumiano (The Gipsy Woman)
Dis Alyscamps l'amo souspire (A Sigh of the Soul for the Alyscamps)
Lou Cabridan (The Bumble Bee)

NEW: DESIGNATED SEATS
50 designated seats with soft cushions for each performance. Buy your tickets ahead of time and secure the best seats in the house! The best part: the price is the same as for the general seating!

Venue:
All Saints Anglican Church
Address:
3205 27 St., Vernon, V1T4W8
Cost:
$22 Adult $18 Senior $18 Student Kids 12 & under free
For more info: