Event:
Slavic Strings: Sycamore String Quartet
Date:
Fri, Jul 6th, 2018
Time:
7:00 pm
Description: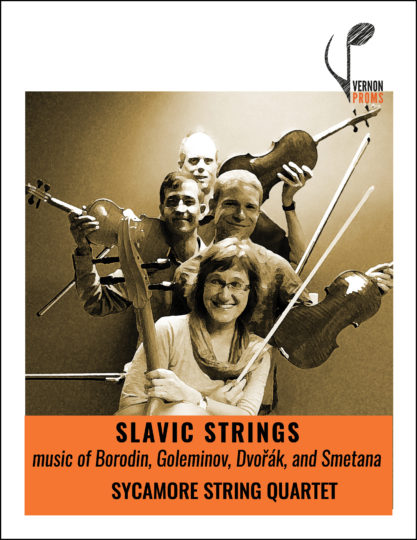 Let the amazing Sycamore String Quartet touch strings of your soul with their beautiful program comprised of gems of Slavic Chamber music.
PROGRAM

Alexander Borodin (1833 - 1887)
String Quartet # 2 in D Major

Marin Goleminov (1908 - 2000)
"Five Sketches" for String Quartet

Antonín Dvořák (1841 - 1904)
"Cypresses", Love songs for string quartet, B 152

Bedřich Smetana (1824 - 1884)
String Quartet # 1 in E Minor, "From My Life"

NEW: DESIGNATED SEATS
50 designated seats with soft cushions for each performance. Buy your tickets ahead of time and secure the best seats in the house! The best part: the price is the same as for the general seating!

Venue:
All Saints Anglican Church
Address:
3205 27 St., Vernon, V1T4W8
Cost:
$22 Adult $18 Senior $18 Student Kids 12 & under free
For more info: