Event:
'Twas the Night Before Christmas
Date:
Sun, Dec 9th, 2018
Time:
2:00 pm
Description: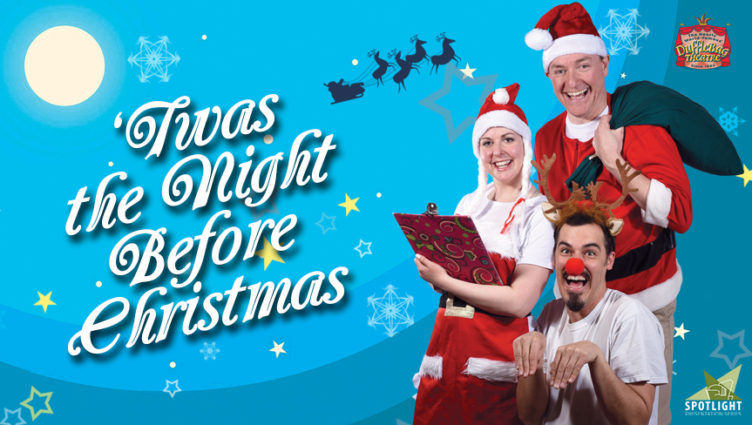 The Vernon and District Performing Arts Centre Society proudly presents Dufflebag Theatre's production of 'Twas the Night Before Christmas on Sunday, December 9, 2018 at 2:00pm at the Vernon and District Performing Arts Centre. 'Twas the Night Before Christmas is the first show in the 2018/19 SPOTLIGHT Kids' Series.
Everyone can't wait for Santa's arrival on Christmas Eve, even with visions of sugar plums dancing in their heads! But somewhere along the line, the jolly old elf seems to have mislaid his sack of presents. What's worse is that Old Man Winter is determined to stop him! Will Christmas have to be cancelled? Not if Mrs. Claus and the reindeer can help! The Nearly World-Famous DuffleBag Theatre company expands the beloved Clement Clarke Moore poem in fun new directions just in time for the holidays! And the best part? YOU could be the main character!

Since starting in 1992, DuffleBag Theatre has performed for audiences throughout Canada and the United States, as well as internationally. Lead by Artistic Director Marcus Lundgren, DuffleBag performs over 600 shows a year. Rather than merely offering a "standard" production for audiences to see, the troupe picks out volunteers from their audience to fill the roles of main characters in each of their productions, making for a fully interactive and largely non-scripted production that can go in one of multiple directions on any given performance.

Not only does DuffleBag have the ability to appeal to a younger audience due to their reliance upon the re-telling of "classic" tales, Lundgren feels the troupe is also easily able to win the hearts of the parents who attend their shows. "We encourage everybody to come out to the show and have a good time. People can definitely expect a fun, family-oriented evening when they attend one of our shows," Lundgren says. "What we offer is something that works for people of all ages."

Subscriptions to our SPOTLIGHT Kid's Series are also available for only $38! Enjoy four professional productions for only $38 with this amazing deal!

Venue:
Vernon & District Performing Arts Centre
Address:
3800 33 St,, Vernon
Cost:
$12 All Ages
For more info: