Event:
BEEGEES GOLD, The Ultimate BeeGees Tribute
Date:
Fri, May 13th, 2022
Time:
7:00 pm
Description: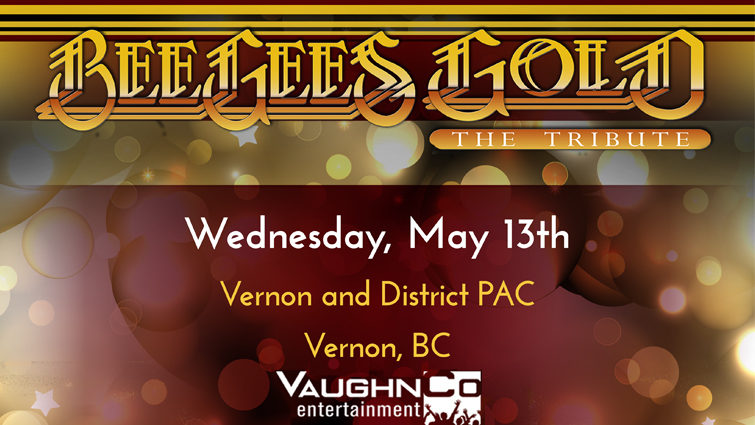 BeeGees Gold tribute is the ultimate salute, and experience of seeing the BeeGees in their prime, LIVE ONCE AGAIN!
$55 Main Floor
$46.25 Balcony
$46.25 Special Needs
From the same promoter that brought you "Hotel California" and "RUMOURS The Ultimate Fleetwood Mac Tribute", VaughnCo Entertainment is proud to present:

BEEGEES GOLD, The Ultimate BeeGees Tribute

With the detailed vocal stylings of John Acosta (Barry) , Daryll Borges (Robin), Jeff Celentano (Maurice) as the brothers Gibb, there is a sensation that will make you blurt out, Wow.. I just seen and heard the BeeGees!

Backed by a live band, the Vegas BeeGees tribute recreates the look and sound of the BeeGees from the 60's to the late 70's, with their unique falsettos that made them legends. John Acosta as Barry Gibb has performed in BeeGees Tributes all over the world. His portrayal of lead singer Barry Gibb is with a zest for detail, like no other. From the look to the falsetto you will close your eyes and say its Barry! Performing such early hits as Massachusetts, I started a Joke, to the later Disco classics, Stayin' Alive, you should be dancing etc. BEEGEES GOLD, The Ultimate BeeGees Tribute from VaughnCo Entertainment on Vimeo.

Venue:
 Vernon and District Performing Arts Centre
Address:
3800 - 33rd Street, Vernon, V1T 5T
Cost:
$55
Ticketing and/or registration:
Call Ticket Seller at 549-SHOW (7469) for tickets or check website below
For more info:
Ticketseller