Event:
A Christmas Carol
Date:
Tue, Dec 7th, 2021 to Sat, Dec 18th, 2021
Time:
6:00 pm to 7:30 pm
Description: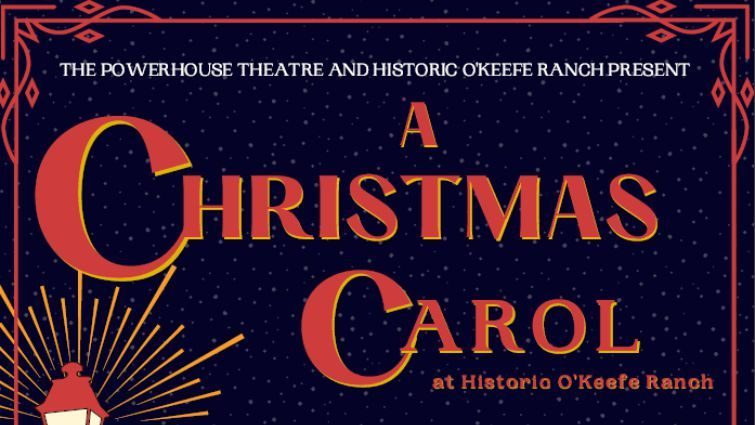 A Christmas Carol is an Immersive Processional Theatrical Experience where audiences will travel on foot and wagon to and from each historic building on the O'Keefe Ranch to witness and participate in this heartwarming story.
It is a joint production between Powerhouse Theatre and the Historic O'Keefe Ranch. There are three (3) performances each evening of 15 patrons per performance. FOOD PREFERENCE: Vegetarian - Gluten-free - No restrictions
DRINK PREFERENCE: Alcoholic - Non-alcoholic
Two 5 ounce glasses of alcohol or non alcoholic drinks will be served over a period of 2 hours. Running time 2 hours plus an intermission Please arrive a minimum of 15 minutes before your purchased time. Instructions for travel and food preferences will be given 10 minutes before the performance begins. No late comers will be allowed into the performance.

Please enter the doors of the GIFT SHOP to attend the performance.

Proof of vaccination and ticket purchase will be taken in the gift shop.
Audiences will be required to wear a mask in all interior places except when they are eating/drinking. Winter walking footwear and warm clothing is advised.Cell phones and all communication devices must be silenced.No photography during performance allowed.Be prepared to have an unforgettable experience! Wash rooms available
VACCINE PASSPORT REQUIRED Mobility to be able to climb up and down stairs, walk on uneven surfaces, and keep pace with a group is essential. No exceptions can be made to accommodate mobility restrictions. Please choose a Day, Time, and Light Refreshment preferences when purchasing your tickets.

Venue:
 O'Keefe Ranch
Address:
9380 BC-97, Vernon
Cost:
$65
For more info: