Event:
The Debaters: Live On Tour
Date:
Sat, May 14th, 2022
Time:
7:30 pm
Description: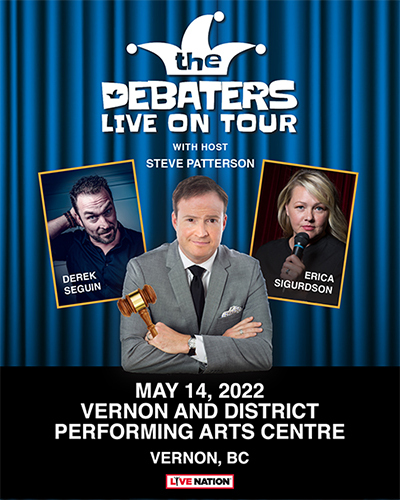 The Debaters Live on Tour is the comedy stage show where comics go toe to toe in a battle of laughs and logic and the audience picks the winner. The 2022 spring tour features host Steve Patterson and two of Canada's top headlining comics, Erica Sigurdson and Derek Seguin performing stand-up and two hilarious debates in everyone's favourite comedy debate format.
Expect to be showered with jokes at this two-hour laugh-fest for live audiences only! The show features two blooming-well hilarious debates in the format familiar to fans of the hit radio smash, The Debaters. Lots of flowery language plus bonus segments of smart stand-up comedy from Steve as he and his hilarious cohorts put the petals to the metal in a show where laughs rain supreme. Dew get your tickets today!

Disclaimers:
Due to the spontaneous nature of live performances, some language may be inappropriate for younger audience members.
This is not a CBC production and will not be broadcast.

Venue:
Vernon and District Performing Arts Centre
Address:
3800 33 St, Vernon, V1T 5T6
Cost:
$67.75 Adult Row A and B
$57.25 Adult Row C to Row P
$47.00 Adult Balcony
*includes all fees and tax
Ticketing and/or registration:
Tickets are available online at
Ticketseller
For more info:
Ph: 250-549-SHOW (7469)