Event:
Music at the Mackie: Under the Rocks
Date:
Fri, Aug 12th, 2022
Time:
5:15 pm
Description: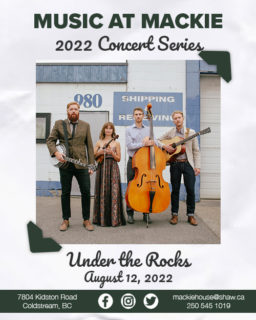 Calling all bluegrass lovers!
Under the Rocks is an energetic young string band based out of British Columbia, Canada. Comprised of Chris Baxter (Banjo/Mandolin), Jordan Klassen (Guitar), Drew Schulz (Bass) and Chloe Davidson, a 3-time Provincial Fiddle champion and Canadian Masters Competitor.

Inspired by traditional and contemporary American Bluegrass, Under the Rocks applies the modern sensibilities of its collective members to stand on the shoulders of tradition while making music that is creative, reflective, relevant and entertaining.

Mi Taqueria Mexican Cantina will be providing some delicious Mexican food for your dinner purchase.

Doors: 5:15
Bar: 5:30 - 8:30
Food Truck: 5:30 - 7:00 - - Wicked Waffles will be onsite for dinner purchases.
Music: 6:30 - 8:45
Packages are $240 and include one free beverage per show.

Amy Bishop - June 24
Teigen Gayse - July 8
Josh + Bex - July 22
Under the Rocks - August 12
Emily Rault Duo - August 26
The Lent Brothers with Neil Fraser - September 9

Venue:
 Mackie Lake House
Address:
7804 Kidston Rd,, Vernon
Cost:
$40 single tickets.
For more info: